Hot Chocolate
I am trying to kick this "Junk Food Vegan" addiction I have; which is why I just HAD to make some hot chocolate. I know that sounds ridiculous to you, the reader, but research has shown that the consumption of hot chocolate can be positive to one's health. A study has shown that hot chocolate contains more antioxidants than wine and tea, therefore reducing the risk of heart disease. It sounds like a stretch but I'm running with it.
I love hot chocolate but can't remember the last time I had a mug; which I guess means, I love
the idea
of hot chocolate. The idea of sitting by the fire with my daughter on a chilly winter night making "Rockwell" Family memories makes me feel all warm and fuzzy inside. I know you're jealous...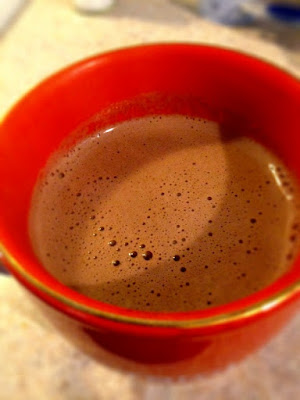 Here's what you'll need to enjoy a warm mug of happy memories:
2 1/2 cups dairy free milk
3 tablespoons white sugar
3 tablespoons cocoa powder
1/2 teaspoon salt
1/2 teaspoon vanilla extract
1 pinch ground cinnamon
1 pinch cayenne pepper
Bring the soy milk, sugar, cocoa powder, salt, vanilla extract, cinnamon, and cayenne pepper to a simmer in a saucepan over medium-high heat. Remove from the heat and whisk until frothy. Serve immediately.