Naan
I love Asian cuisine; the flavors dance. Indian food is one of my favorites but it's easy to confuse what looks like a good, authentic Indian restaurant with....well...poop. I love to make my own. I usually let the flavors marry over night for a really robust flavor. It's fun for the kid to have some naan. We both like to rip the naan and use the bread as a sort of "taco shell" for our food.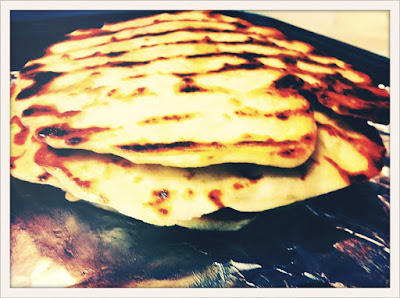 1 tsp. active dry yeast (1/2 package)
1 Tbsp. sugar
3 Tbsp. soy milk
1 tsp. salt
1 3/4-2 c flour
2 Tbsp. olive oil
In a large bowl, dissolve the yeast in warm water. Let stand about 10 minutes, until frothy.
Stir in the sugar, soy milk, salt, and enough flour to make a soft dough, between 1 3/4 to 2 cups.
Knead for 6 to 8 minutes on a lightly floured surface or until smooth. Place in a well-oiled bowl, cover with a damp cloth, and set aside to rise. Let it rise 1 hour, until the dough has doubled in volume.
Punch down the dough then roll into golf ball-size pieces and place on a baking sheet. Cover with a towel and allow to rise until doubled in size, about 30 minutes.
Preheat a pan to high heat and lightly oil. Roll each ball of dough into a thin circle then add to pan one at a time. Cook for 2 to 3 minutes, or until bubbles begin to brown and brush the top side with additional oil. Flip the bread and cook for 2 to 3 minutes on the other side. Continue until all the bread is cooked.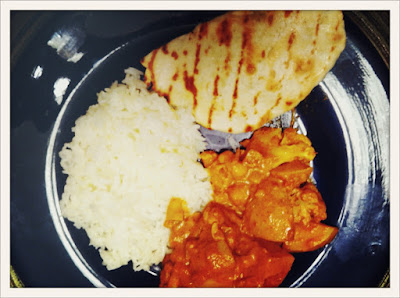 Pictured above with
aloo gobi
and jasmine rice